Ideas

Currently, duration fields will present inconsistently in either minutes or fractions of hours. Screenshots below show how the same field with the same value is presented differently across different forms and views.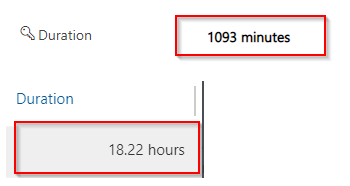 I have heard that the logic is to convert in hours as long as you use 15 minutes steps, but in my example that is clearly not the case. And even if it did, a consistent presentation regardless of the duration is desired. With Duration fields being used heavily in D365 Field Service, this is very confusing to users.

The ask here is to provide a control that would allow a global setting to either present in hours or minutes. Or possibly to have one control that presents in minutes and another that presents in hours.